Meet Your Team
We're your personal training team – here to support your goals and long-term success. 
Tom Nanartonis
MGB Coach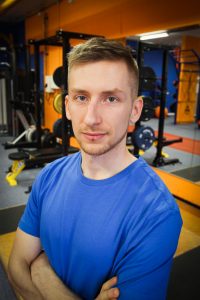 Tom's first introduction to fitness was via his Father who was a bodybuilder.  Ever since, he has had a great interest in anatomy and the biomechanics of the body.  Following college, he decided to further pursue his passion by enrolling in a Fitness and Personal Training degree at Southampton Solent University in 2014.
Over the course of 3 years, he gained knowledge and experience working for a number of companies and gyms.  He has had the opportunity to work with a variety of patients, from those with clinical conditions, to competitive athletes and football teams.
After graduating from university Tom carried on learning and achieved a professional diploma in Soft Tissue Therapy and Corrective Exercise.  To date, he is continually developing his skills and furthering his knowledge on how he can make clients stronger, healthier and happier.
A note from Tom:
"Physical activity is often seen as a method to quickly lose weight or get toned for summer.  However, I believe that no matter what your shape, size, or goal, everyone should be engaged in a sport or physical activity of some sort.  My goal is to make people strong and help them realise their potential.  I believe that by committing to a weight training or an alternative fitness routine, all of this can be achieved – while having fun!"