PRE & POST-NATAL TRAINING
Our specialist team can guide you with safe and effective personal training during your pregnancy,
and those first 6 months back
TRAINING DURING AND AFTER PREGNANCY
Having children is such an exciting time of life, but the changes a woman's body goes through during pregnancy and childbirth mean it's important to put careful consideration into a safe and effective exercise programme. 
However, done correctly, regular exercise is an excellent way to help your body meet the demands put upon it, as well as mitigating many of the uncomfortable symptoms and side-affects brought on by carrying and delivering a baby. 
The benefits of keeping regularly active throughout pregnancy and in the months following childbirth are numerous for both you and your little one, so why not engage in the services of our team of specially qualified trainers to guide you through a safe and effective training plan.
Prenatal Training For Expectant Mums
Pregnancy can be a nerve-racking time as you adapt to the idea of a little life growing inside of and depending upon you.  It is understandable to feel like you want to wrap yourself in bubble wrap and put your feet up, however – don't be afraid of exercise as an expectant Mum.  Why? Because there are many benefits that you can take advantage of.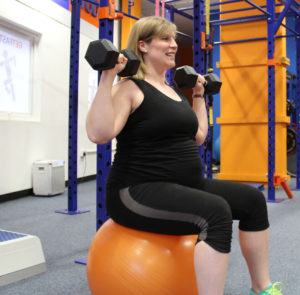 The benefits of prenatal training include:
Better Circulation
Decreased swelling
Reduced leg cramps
Reduced lower back pain
Easier, shorter labours
Quicker post natal recovery
Maintaining fitness
Reduced maternal weight gain
Reduced labour pain
Offsetting of postural changes (which commonly lead to back pain)
Easing of gastrointestinal (tummy) upset 
We are specially qualified as a team to tailor our training sessions to expectant Mums, adapting our recommendations as your baby develops, along with the associated changes this brings within your body.
Postnatal Training
We understand that there will be a great variety in birthing experiences and in some cases complications that may mean that recovery from labour might take a little longer that you hoped. But we are ready to work with you and your health care professionals to help you to start working back towards feeling yourself again.
Life with a new born will inevitably be challenging in many ways, so we aim to facilitate your return to regular exercise as best we can. Thanks to having our own private training facility, we have the perfect set up to allow mums, should they wish, to bring babies along to their training sessions, enabling you to dip in and out of the session should you need to change or feed your little one.
Benefits to participating in a regular post-natal exercise programme include:
Increased stamina
Increased energy
Increased metabolic rate
Increased weight loss
Improved body image and self confidence
Decreased stress and anxiety
Improved posture, reduced back pain
Improved muscular endurance
Chance to meet and socialise with other local mums