Meet Your Team
We're your personal training team – here to support your goals and long-term success. 
Mitch Fry
MGB Coach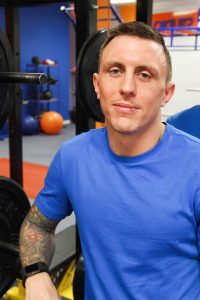 Mitch has always been involved in sports from a young age playing rugby, football and badminton throughout his school years.
At the age of 16 he started weight training and boxing and loved the physical aspects and fitness. This developed into competing in amateur boxing shows.
From there the ball kept rolling and he went on to train and actively compete in kickboxing, Muay Thai and mixed martial arts (MMA).  To date he has participated in combat sports for more than 15 years.
In 2010 Mitch qualified as a personal trainer and has taught group classes and 1 to 1 sessions ever since.
From powerlifting, to crossfit, to designing strength and conditioning programmes for professional fighters while living in Thailand; over the years, Mitch has gained knowledge and experience from working in a variety of different gyms.
Using his knowledge and experience in training both individuals and classes, Mitch works from beginners right up to a competitive level.
A note from Mitch:
"I'm lucky enough to do a job I love.  Helping people achieve their peak physical condition isn't just a job, but a passion. Seeing the confidence grow in someone as their training progresses, they reach their goals, and their overall fitness improves really motivates me.
I get to work with great people and create bonds and friendship through helping them to achieve what they want.  I believe that exercise doesn't need to be a chore, and I try to emphasise this in all of my sessions.
I'm always trying to evaluate and improve as a trainer so that I can continue to deliver the best sessions possible."